'Constructing Better Lives' P.E.C. Charity Ball 2022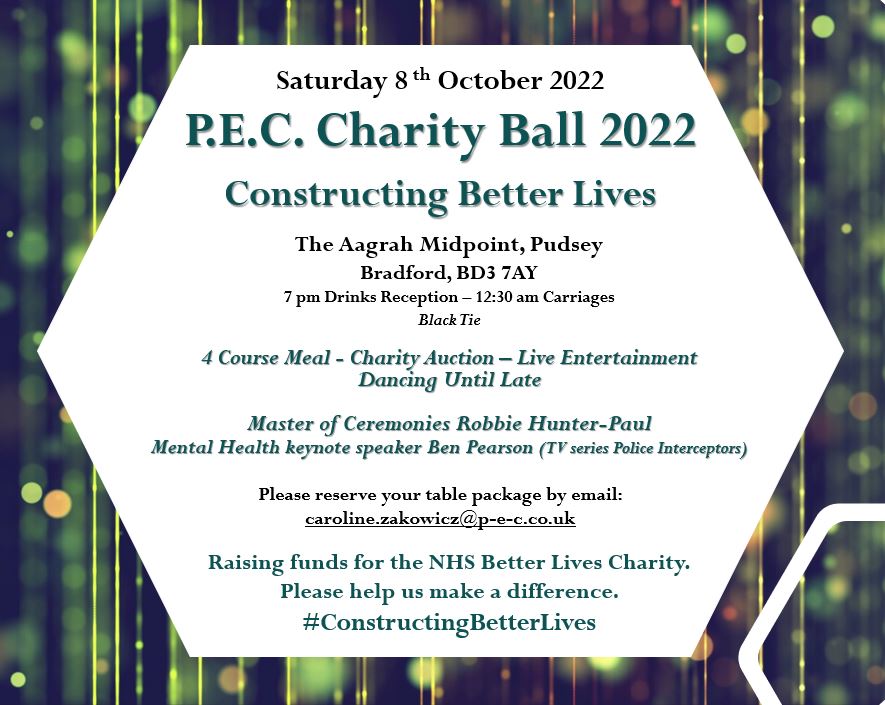 The long-awaited P.E.C. Charity Ball is getting closer and closer with only 3 months now to October 8th.
Better Lives is the charitable arm of the Bradford District Care NHS Foundation Trust –which provides mental health, dentistry, community health and specialist learning disability services across Bradford.
Helen Verity, Fundraising Officer in Better Lives Charity told us more about the cause.
''We operate the Lynfield Mount Hospital and the Airedale Centre for Mental Health. We provide a range of community health services for patients at every stage of their lives from our experienced health visitors who support families and newborn babies to our dedicated staff caring for people nearing the end of their lives. We support and look after some of the most vulnerable people within our community. Our charitable aims are to improve the physical and mental well-being of our patients, volunteers/staff and we fund services, projects and tangible items that sit outside of the NHS core budgets. P.E.C have already supported our very first off-site allotment, for our Early Intervention in Psychosis Teams to use with their service users, giving them the opportunity to have therapeutic sessions in an outdoor setting, learn to plant and grow their own food and give people a safe place to access nature-based activities in order to improve their physical and mental health'' says Helen.
Better Lives is an amazing organization for which we raise funds on daily basis and as we will be doing at our Charity Ball.
Let's meet and celebrate for a good cause 'Constructing Better Lives'.
Sohan Panesar
P.E.C. Managing Director
#ConstructingBetterLives
#PECCharityBall2022 #PECCharityBall
#Together #companyvalues #WeCare #BetterLives #bdcft #betterlivesmatter #NHS #charity #charityfundraising #givingback
#Quality #PEC #ConstructingManufacturingShopffiting #construcion #manufacture #shopfitting #refurbishment #property #interiordesign #furniture #joinery #business #bradfordbusiness
#Safety #WulfProtectiveLtd #WulfProtective #doors #firedoors #bespokefiredoors #doorsmanufacture
#Possibilities #PF #PlanetFurniture #PlanetFurnitureYorkshireLimited #PlanetFurnitureYorkshireLtd #manufacture #interiordesign #furniture #bespokefurniture #kitchensfurniture #bedroomfurniture #bathroomfurniture #posiibilitiesareendless…
#Bradford #WestYorkshire #Yorkshire #British #UK