Read all about it! P.E.C in Alexander House project in the "Telegraph & Argus"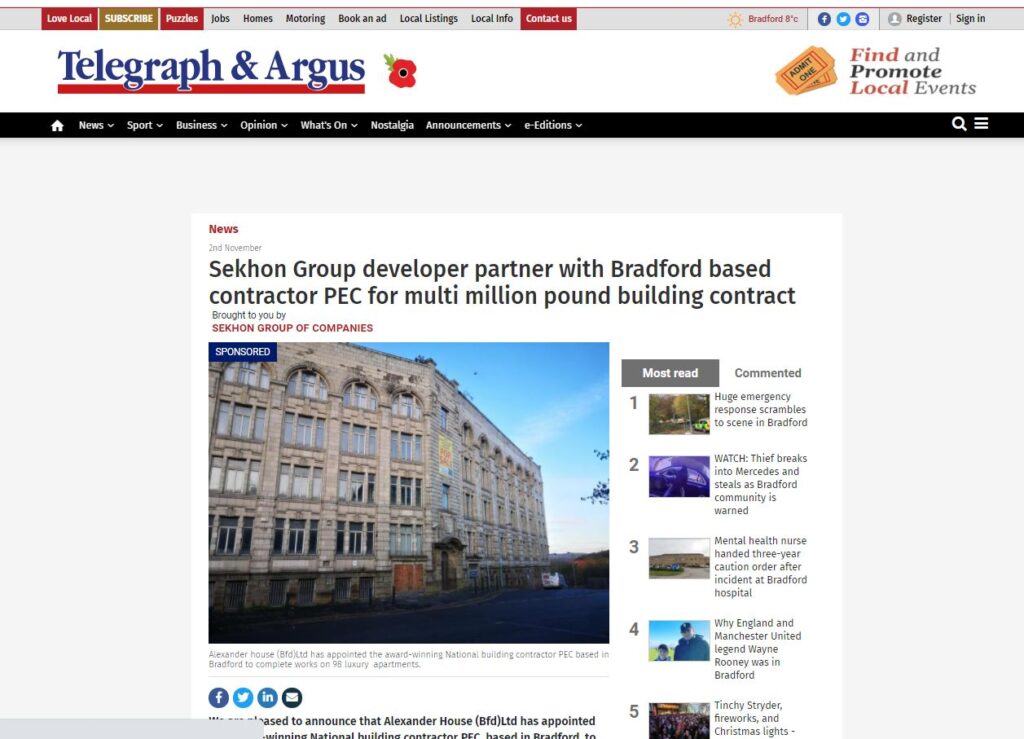 We feel appreciated and honoured! A few days ago, "Telegraph & Argus" published an article about the Alexander House project, where P.E.C. converted a derelict mill into 98 apartments.
This article describes us very generously. We would like to thank Simmy Sekhon and Sekhon Group for their words of appreciation and the opportunity to partner on such an interesting project.
''We believe that this project is important and very serviceable for the local community. During the works, PEC used all our own locally employed staff and sub-contractors including our in-house bespoke manufacturing facility providing high-quality kitchens and fire doors. All the work has been carried out with great precision and to very high quality, but our goal was also to finish ahead of schedule.
Our past experience as a contractor in connection with the conversion of mill buildings to apartments has helped in delivering this project well ahead of the client`s original deadline. ''
PEC`s managing director Sohan Panesar says –
''Sekhon Group thank you again for noticing the great work of our teams. We have amazing people working with us every day. We will soon complete work on Alexander House, and we are ready for new challenges!''
If you would like to know more about Alexander's House project, go to the article:
https://www.thetelegraphandargus.co.uk/news/19686940.bradford-based-developer-partners-bradford-based-contractor-multi-million-pound-building-project/
#pec #sekhon #construction #property #business #interiordesign #furniture #bespokekitchen #bespokefurniture
#Bradford #WestYorkshire #Yorkshire #UK