Spotlight – Apprenticeships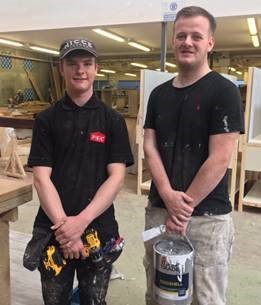 Jack Johnson & Jake Troy. 
As PEC are about to take on several new apprentices next week, we ask two of their continuing apprentices about their experiences with the company so far.
Jack Johnson is 17 years old and lives in Leeds. Jack joined PEC last September as an apprentice, he is working towards becoming a fully qualified Site Joiner and believes that PEC can offer the experience and training needed for a fulfilling career. Jack enjoys making items with wood and takes pride in seeing the finished product completed. He hopes his skills and dedication will contribute to a long-lasting career at PEC.
Jake Troy is 19 years old and lives in Bradford. He joined PEC as an apprentice decorator approximately 1 year ago, he is working towards becoming a fully qualified decorator whilst gaining valuable knowledge and guidance within the company. He says, "I have had a wide range of experiences whilst working here at PEC and it gives me a lot of joy standing back and seeing the finished creation that I have been working on." One of Jake's most recent jobs was working at apartment conversions in Leeds where he assisted with creating 36 luxury apartments.
PEC intend to continue providing invaluable experience and training leading to rewarding careers for many more young people to come.